[email protected]
Fast execution speeds, flexible trading conditions, and seamless forex trading experience with
Metatrader 4
Benefit from the reliability of a trusted broker, tight spreads,
and advanced trader tools.
Metatrader 4
Metatrader 5
Web Trader
MetaTrader 4:
The Complete Guide to
MT4
MetaTrader4 Trading Platform
MetaTrader4 is an advanced trading platform that gives you access to a wide range of features and tools for accurate
trading analysis. It can help you build and use custom trading algorithms to automate trading.
Customisable platform with thousands of online tools to plug-in
One-click Trading
Instant order execution
Free VPS hosting
Up to 4 pending order types and trailing stops
Fully customizable and in-depth charts
In-depth trading history
Build your own algorithms or import Expert Advisors (EAs)
Discover the powerful features of MetaTrader4
Thousands of MT4
indicators
Signing up on Blueberry Markets and downloading MT4 platform gives you instant access to add-ons and indicators that are guaranteed to give you an edge.
Automated
trading
Build your own algorithms for trading or import Expert Advisors to automate the whole trading
Customisable
charts
MT4 offers charts that are fully customisable and they can be easily adjusted to fit your individual trading requirements.
Real-time
data
Decide how you view market data with live charting features
Trade MT4 on almost any device with Blueberry Markets
MT4 for PC
Experience online trading the way it's meant to be with
MetaTrader for desktop.
MT4 for Mac
With its advanced features and numerous technical
analysis tools, MT4 is the top trading platform for Mac.
MT4 for iPhone
Optimised and built specifically for iOS, MT4 for iPhone app combines all the features of MT4 with convenience to help you trade on the go.
MT4 for Android
Access all the major features of MetaTrader with portability and flexibility by downloading MT4 for Android.
Switch to MetaTrader 5?
While MT4 is used widely by forex traders, MetaTrader 5
platform has the ability to trade stocks, indices, commodities,
forex, and many more instruments.
It's the next-gen trading platform with exclusive indicators
and improved charting.
Frequently Asked
Questions
What is MetaTrader 4?
MetaTrader 4, also known as MT4 is a digital trading platform that is used by retail foreign exchange traders. It automates trading and offers several technical analysis options. The tool is licensed to Blueberry Markets as a leading forex broker and anyone with a live or demo account can access to MT4.
What is a MetaTrader 4 demo account?
A MetaTrader 4 demo account with Blueberry Markets allows you to learn how to use this tool for free in a completely secure and risk-free environment.
How to trade on MetaTrader 4 app?
You can easily trade through the MetaTrader 4 app by finding the market that interests you the most under the 'Market Watch Window'. After this, you place a trade by opening a position by double clicking on the market name The order is executed almost instantly.
What is the difference between Metatrader 4 and 5?
The biggest difference between MetaTrader 4 and 5 is that MetaTrader 4 is specifically built for forex traders to trade in the forex market, whereas MetaTrader 5 is built as a one-stop platform for trading forex, stocks, shares, CFDs, cryptocurrencies, and commodities. MT5 is more advanced and has a broader application base while MT4 is best if you only wish to focus on the foreign exchange market.
How does MetaTrader 4 work?
MetaTrader comes with two trading order types - market orders and pending orders. All market orders are executed in four different way: instant execution, market execution, request execution and exchange execution. In contrast, pending orders are only executed when the prices reach a pre-decided level.
Is MT4 good for trading?
MetaTrading 4 (MT4) comes with an extremely user-friendly interface, simple design, and excellent functionalities that make it a great source to start foreign exchange trading. It fits well with beginner as well as expert traders, since it comes with easy to advance functions one can build on.
What does MetaTrader 4 do?
MetaTrader 4 is a trading platform that helps in foreign exchange and futures trading. It allows you to analyse all financial markets, automate trading algorithms, analyze in-depth charts, and even perform expert trading operations.
How do I trade in MT4?
You can easily begin trading in MT4 by using the order window on the MT4 app, and place an immediate order in the market of your choice. If you are dealing in the forex market, you can select any currency pair that you wish to by clicking on the window tab which is visible at the top of the platform, and select 'new' window for the trade continuation.
Does MetaTrader 4 cost money?
MetaTrader 4 is entirely free to download and use with Blueberry Markets as your forex broker. The only money that you spend through the platform is when you place real trades through your live trading account. You can also see how the MT4 app works by creating a demo account and using the virtual funds to practice trading strategies.
Is the MT4 platform free?
Yes, MT4 is an absolutely free to download and use platform with Blueberry Markets. It comes with advanced operations that even beginners can utilise to analyse the financial markets, manage trades and place successful trade orders in different markets.
Your account
Pricing
Platforms
Tools
Trading instruments
News & updates
Learn to trade
Partnerships
Get to know us
Copyright © 2022 Blueberry Markets.
All Rights Reserved.
Blueberry Markets Group (Blueberry Markets) is a registered business name of Eightcap Pty Ltd (ABN 73 139 495 944), regulated by the Australian Securities and Investments Commission (AFSL 391441).
Blueberry Markets Pty Ltd (ABN 40 606 959 335) is a Corporate Authorised Representative of Eightcap Pty Ltd (ABN 73 139 495 944), under AFS Representative Number 001245440.
For Australia based clients, a Product Disclosure Statement (PDS) and a Financial Services Guide (FSG) for our products are available to download from our Legal Documents page. You must assess and consider them carefully before making any decision about using our products or services.
For non-Australia based clients: Blueberry Markets Group is a registered domain of Eightcap Global Ltd (Eightcap). Eightcap is authorised and regulated by the Securities Commission of the Bahamas (the "SCB") (SIA-F220).
Risk Warning: Margin trading involves a high level of risk and is not suitable for all investors. You should carefully consider your objectives, financial situation, needs and level of experience before entering into any margined transactions with Blueberry Markets, and seek independent advice if
necessary. Forex and CFDs are highly leveraged products, which means both gains and losses are magnified. You should only trade in these products if you fully understand the risks involved and can afford to incur losses that will not adversely affect your lifestyle.
MetaTrader 4
MetaTrader 4 offers the leading trading and analytical technologies, as well as additional services. It has everything you need for Forex trading.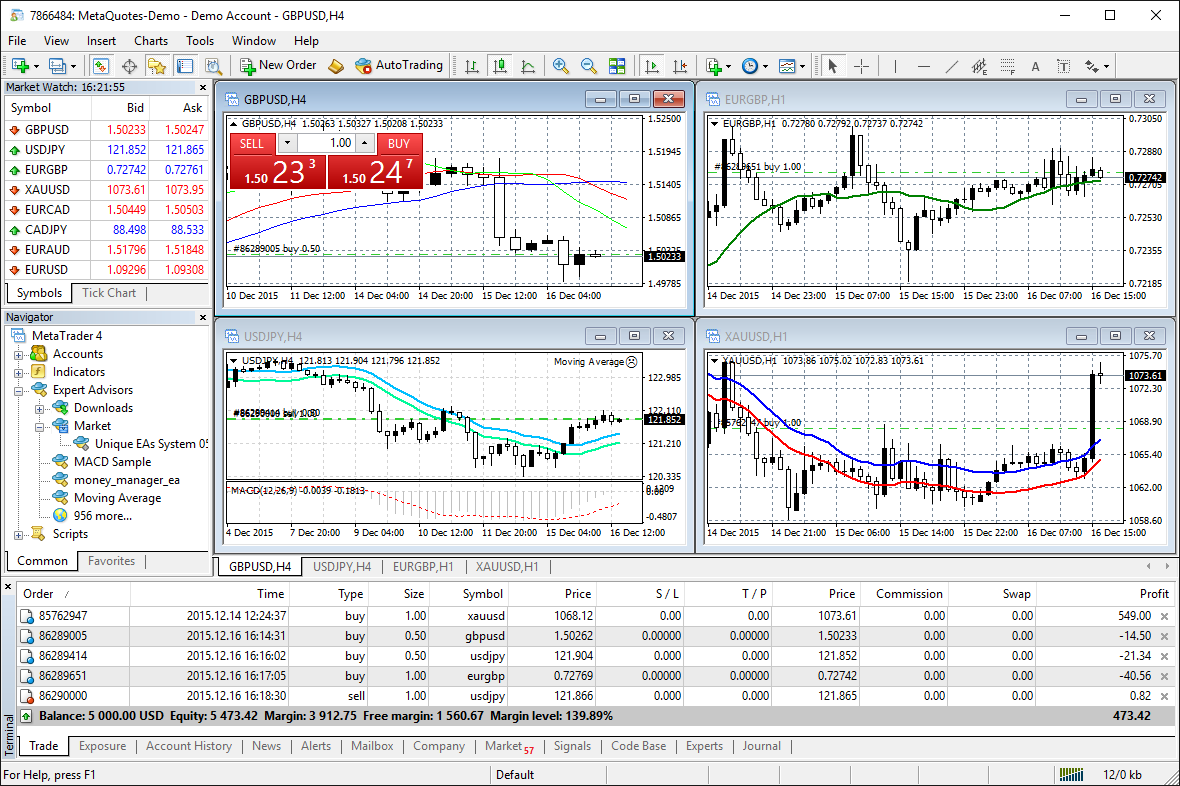 Analyze quotes of financial instruments using interactive charts and technical indicators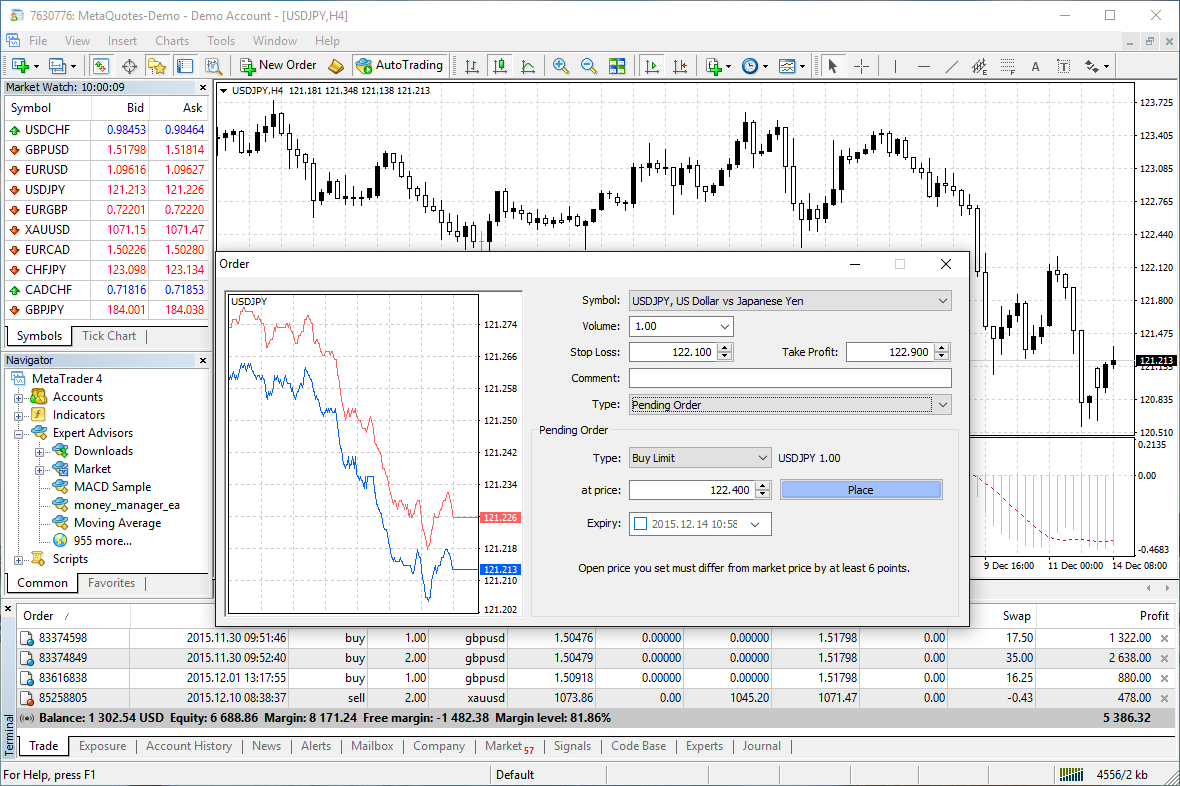 Flexible trading system and support for all order types allow you to implement any strategy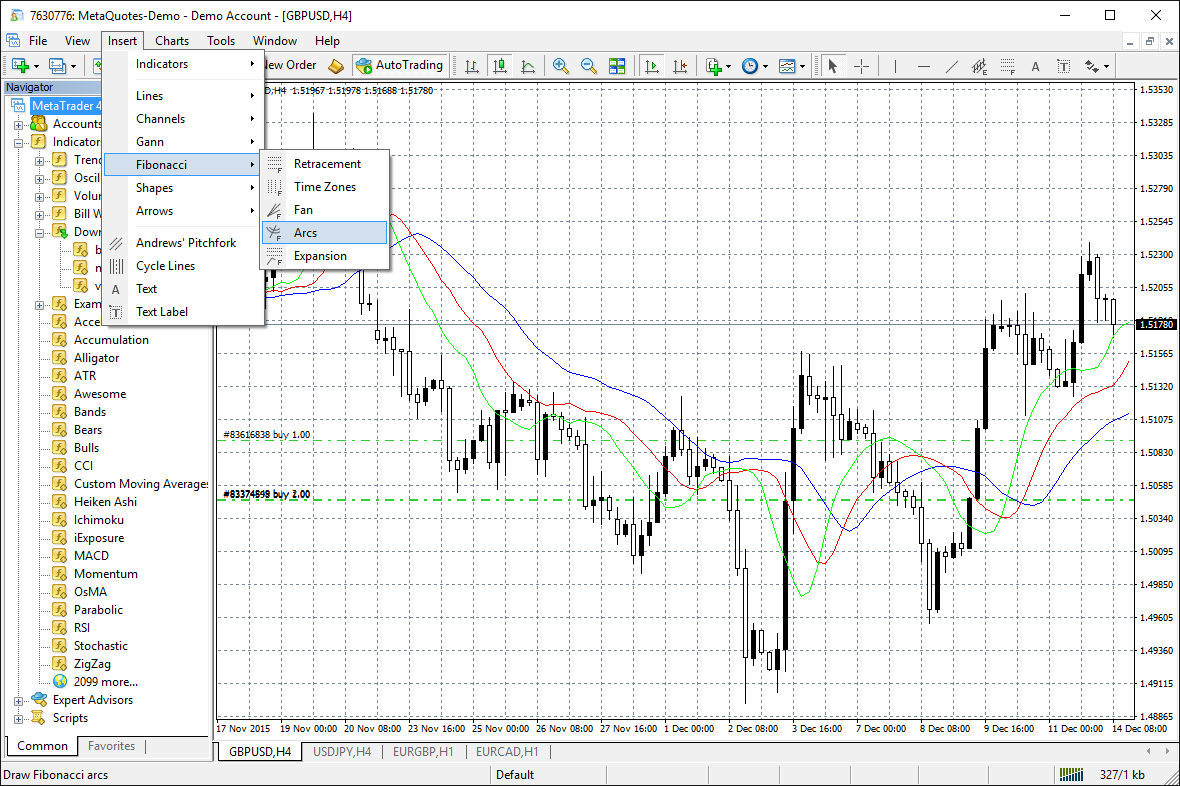 Examine currency quotes from various perspectives with more than 65 built-in technical indicators and analytical objects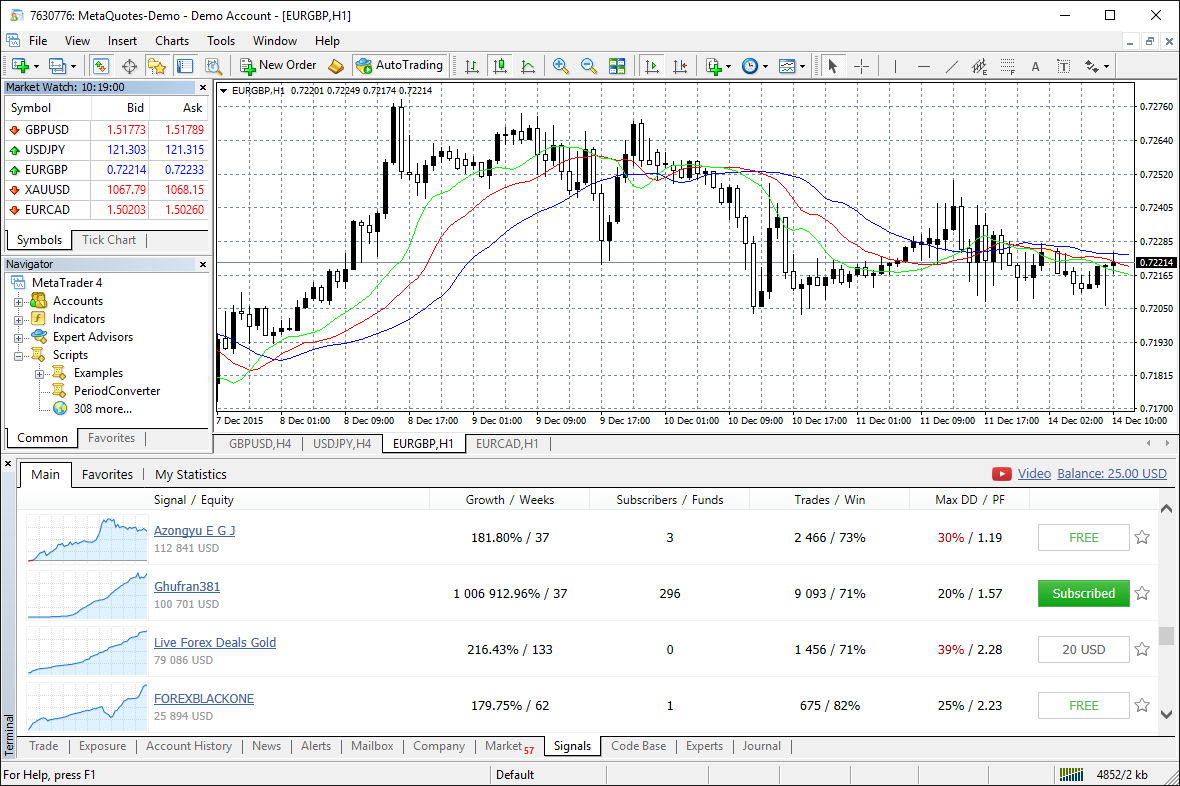 Copy deals of successful traders directly in the platform using the Trading Signals service (social trading)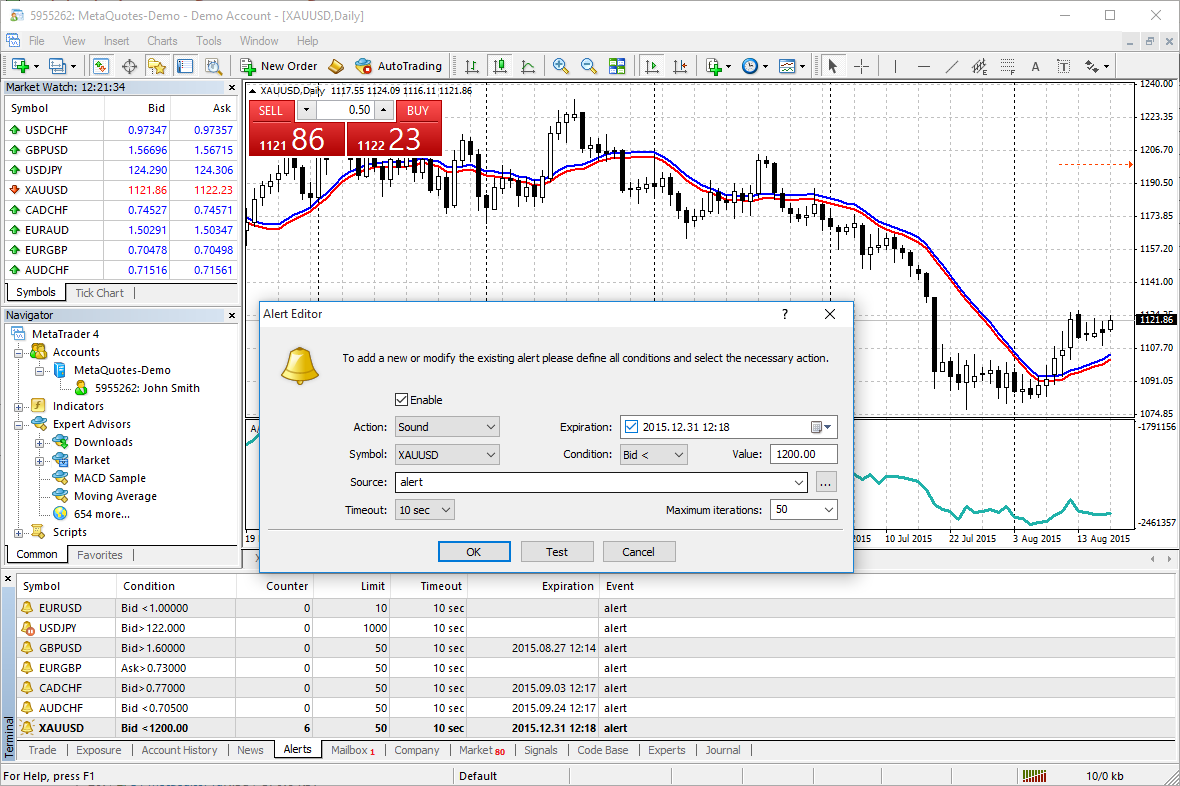 Trading alerts will notify you of favorable market conditions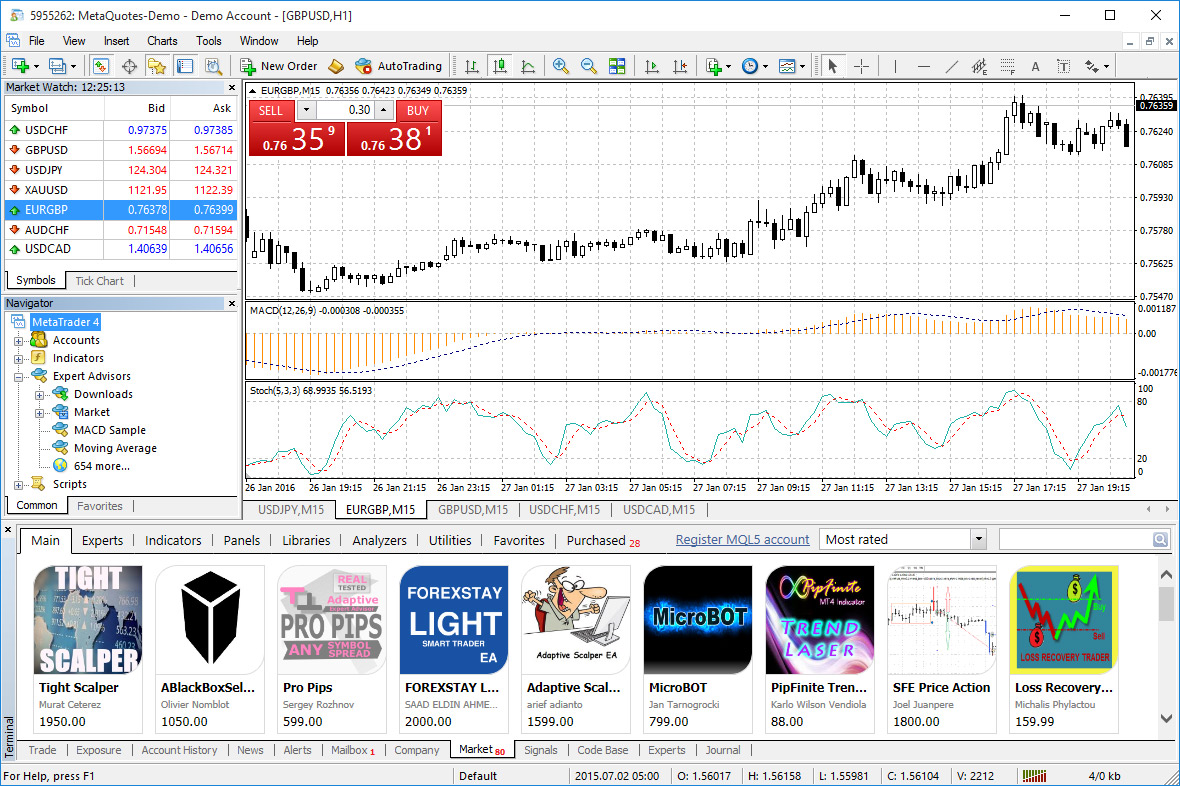 Visit the Market — the biggest online store of trading robots and technical indicators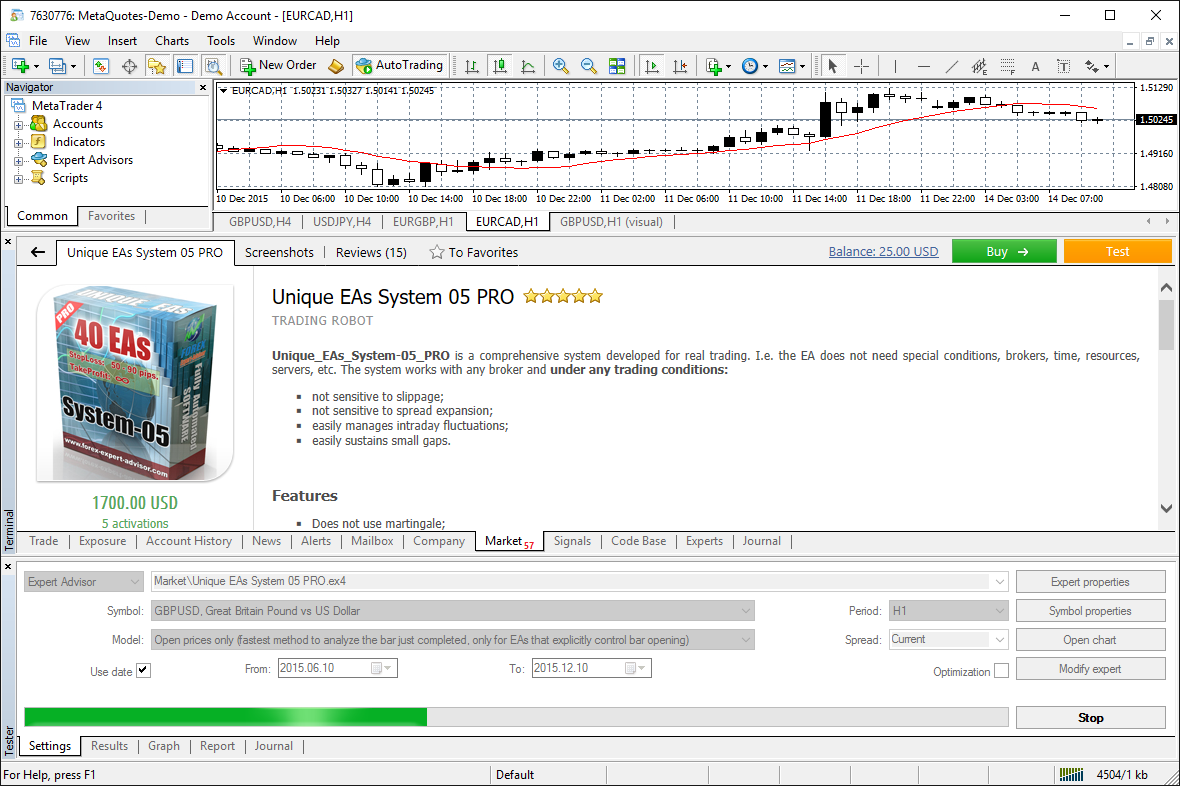 Test any trading robot in the Market before purchasing it
Purchase or rent a Market product the way you like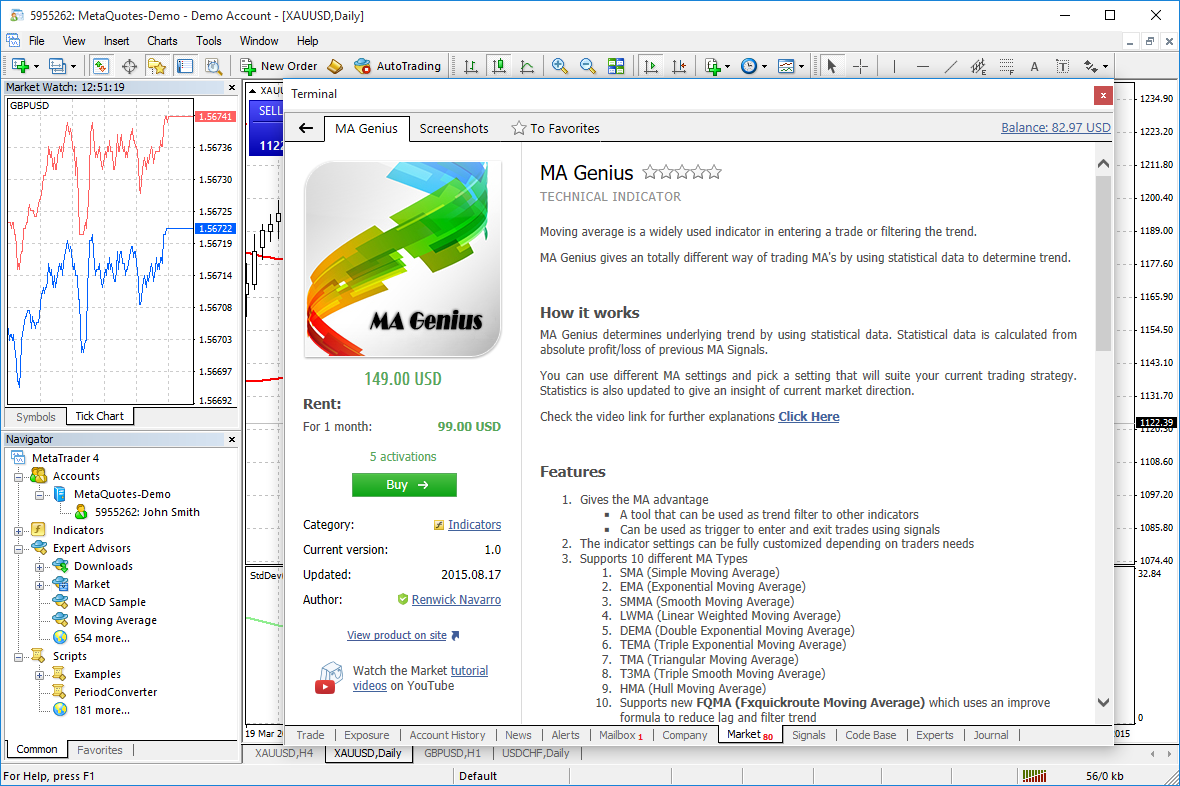 Read the product description in the Market before purchasing it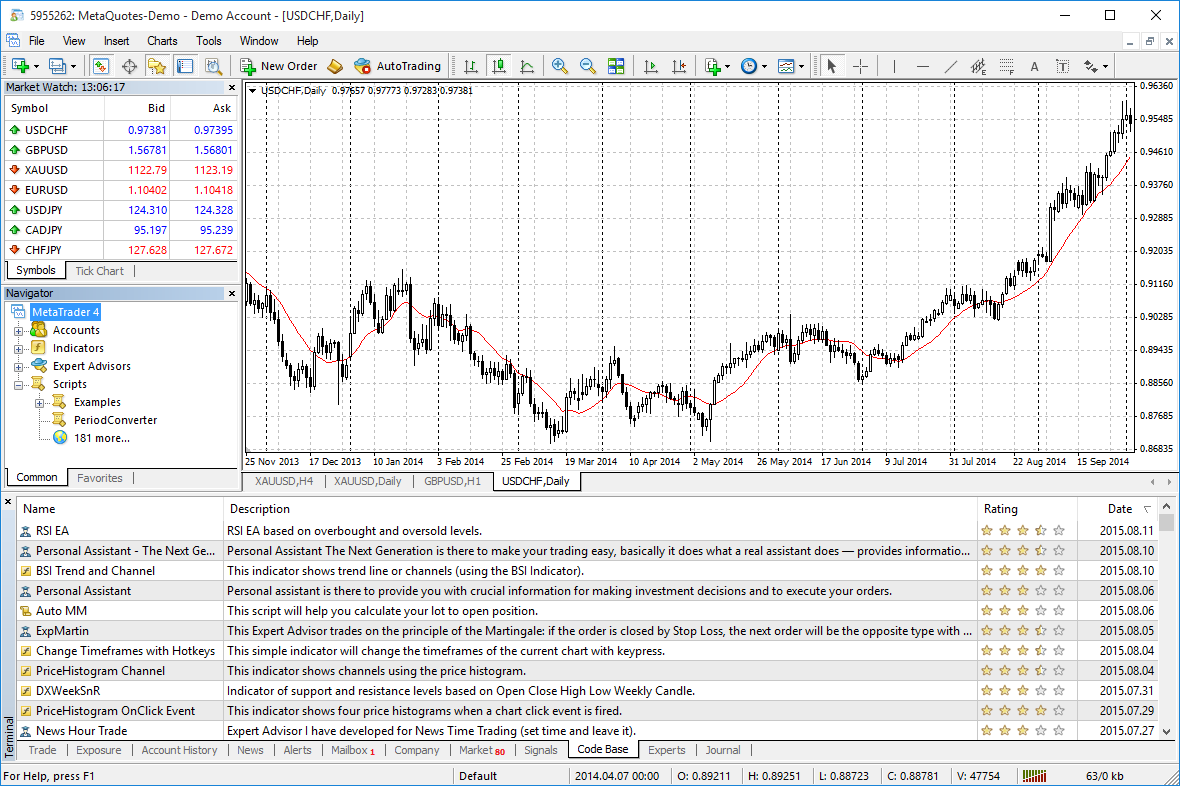 Thousands of free robots and indicators are published in the Code Base and ready to be downloaded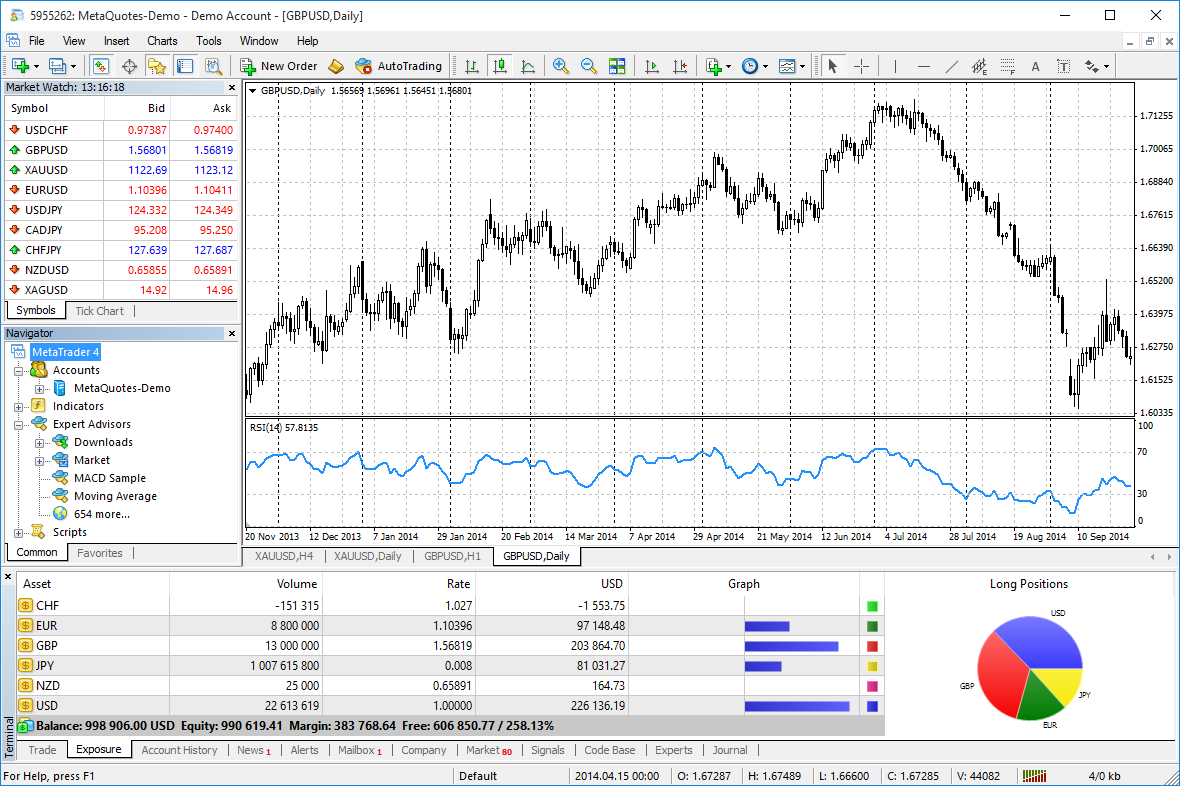 Maintain total control of your assets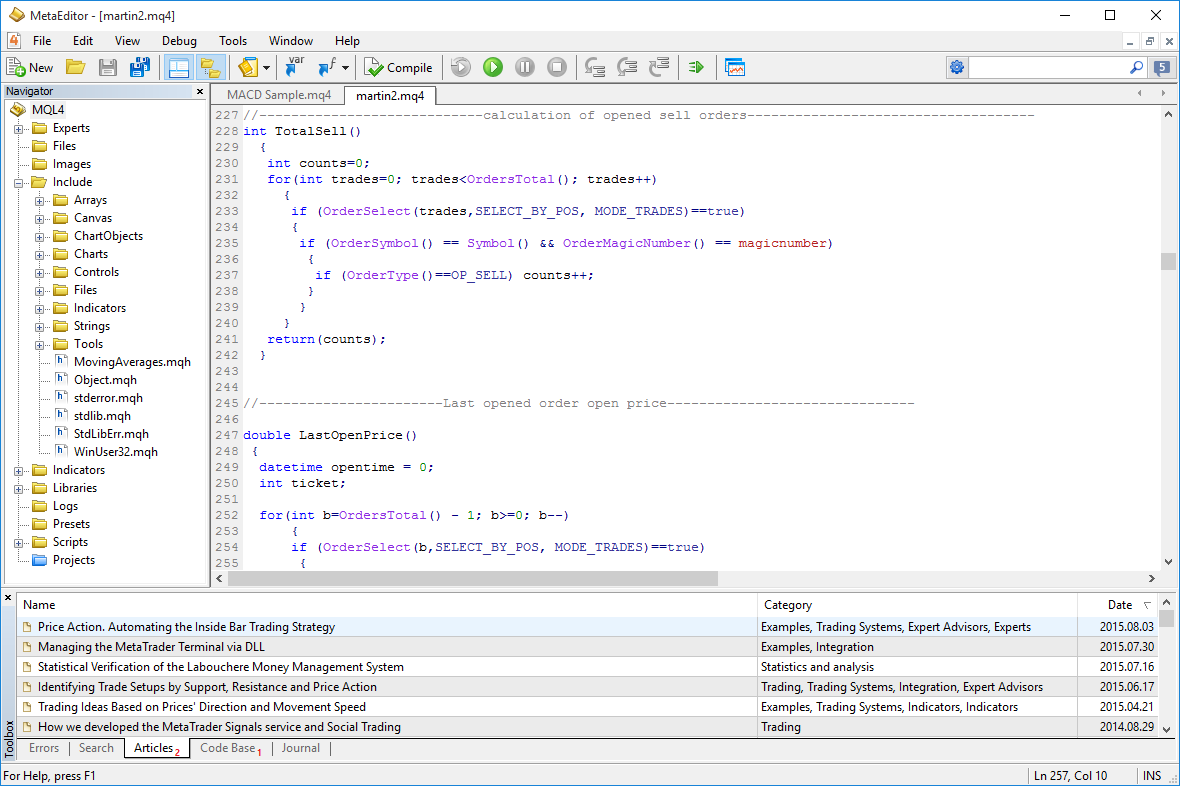 Trading robots and indicators are developed using the specialized MetaEditor tool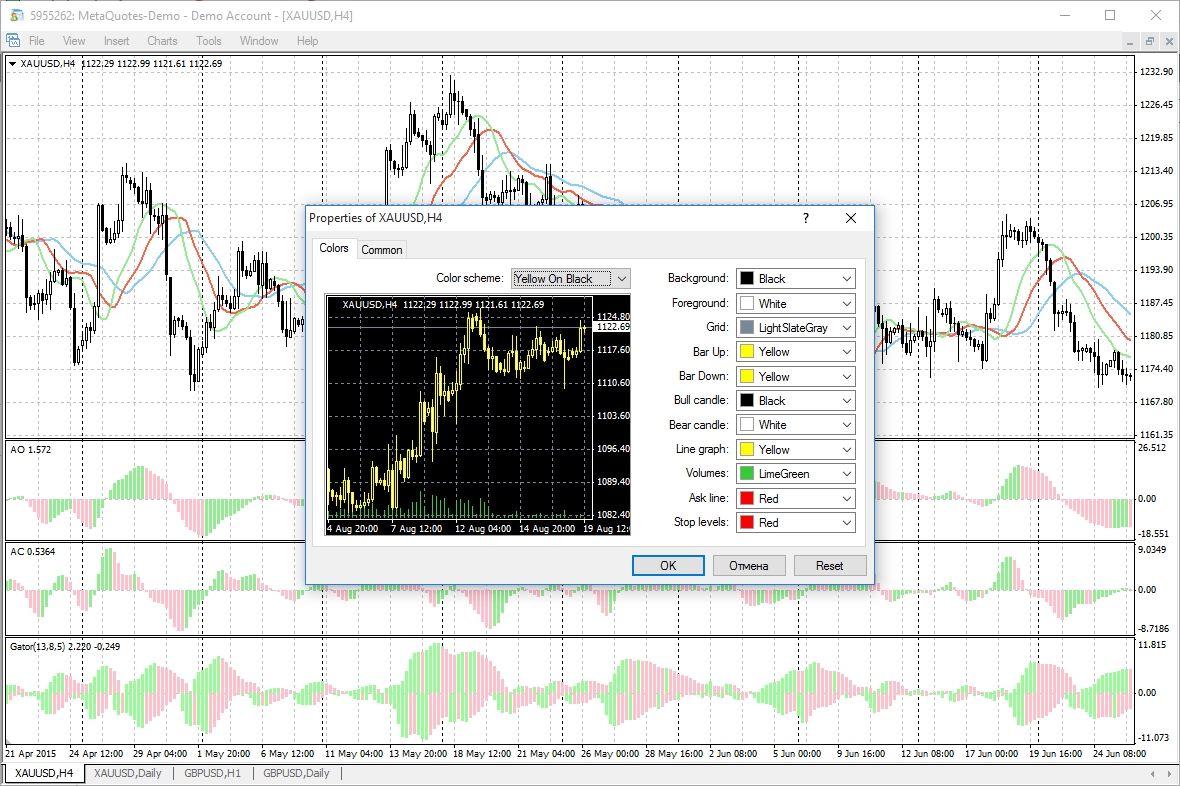 Customize the chart appearance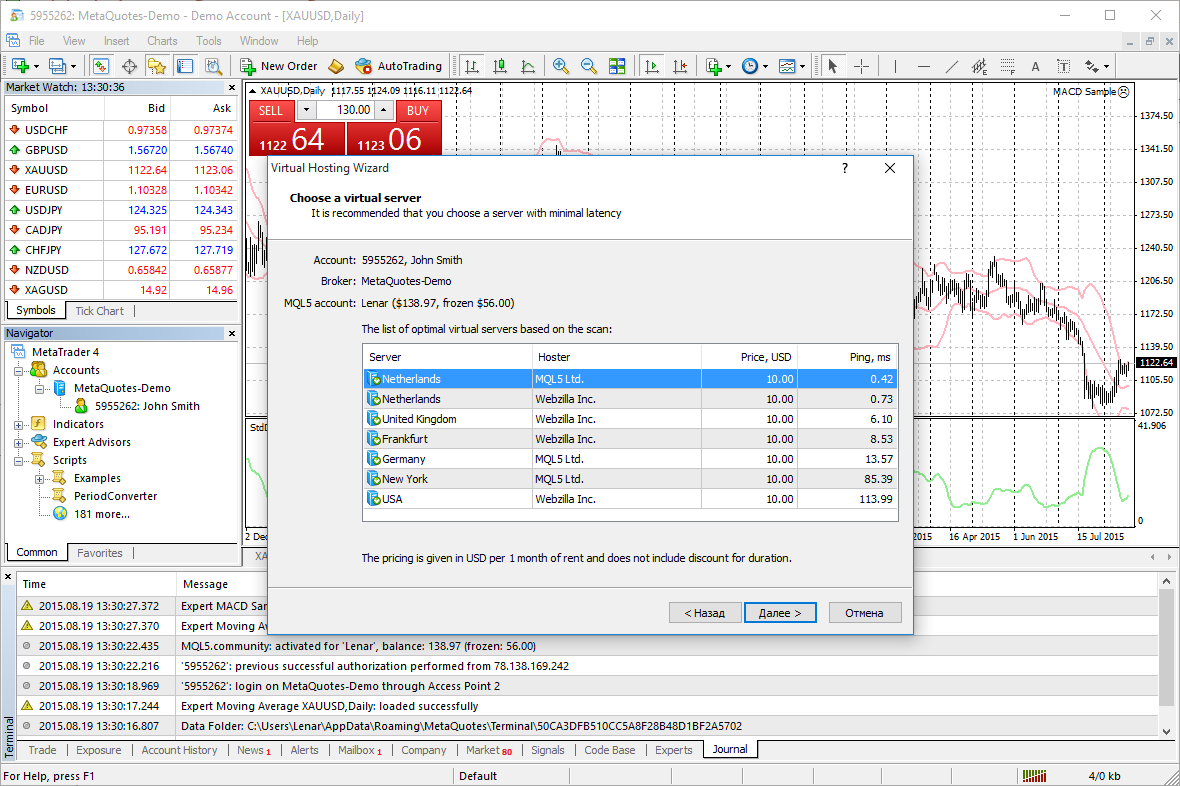 Order the virtual hosting at a reasonable price directly from the platform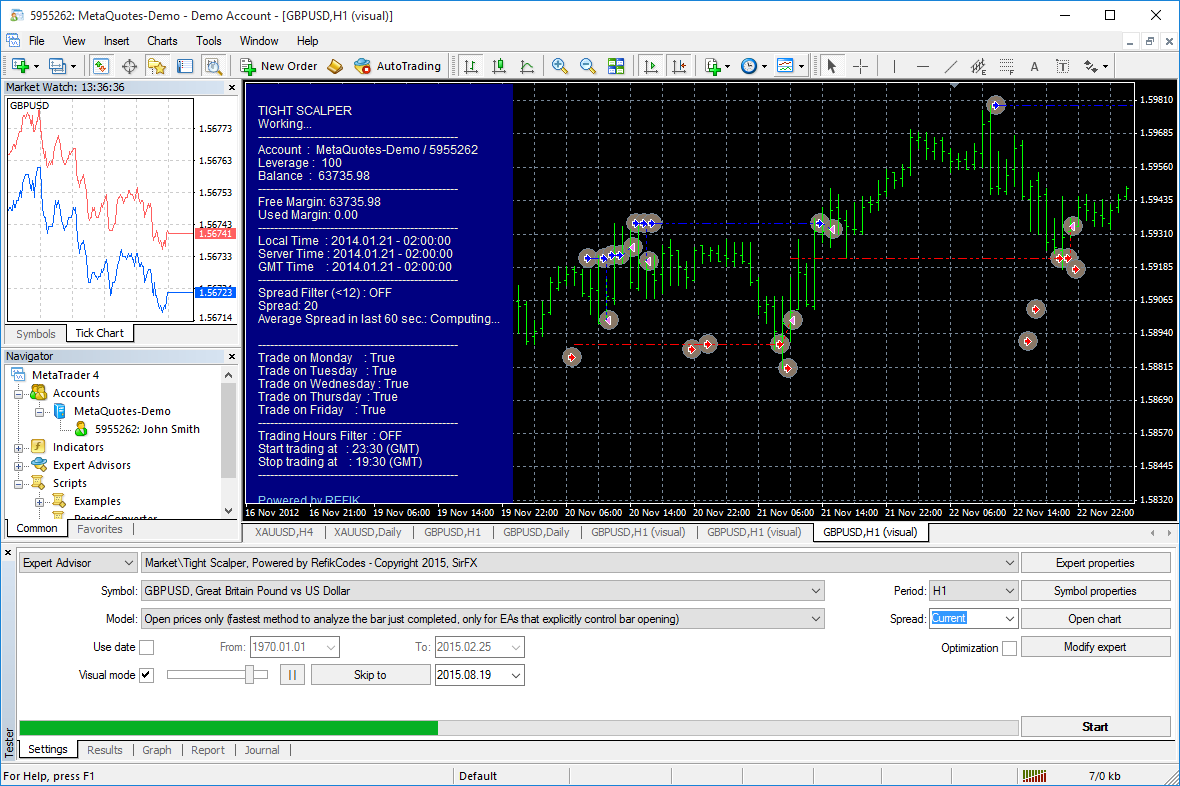 Test robots in visual mode to better understand their trading algorithms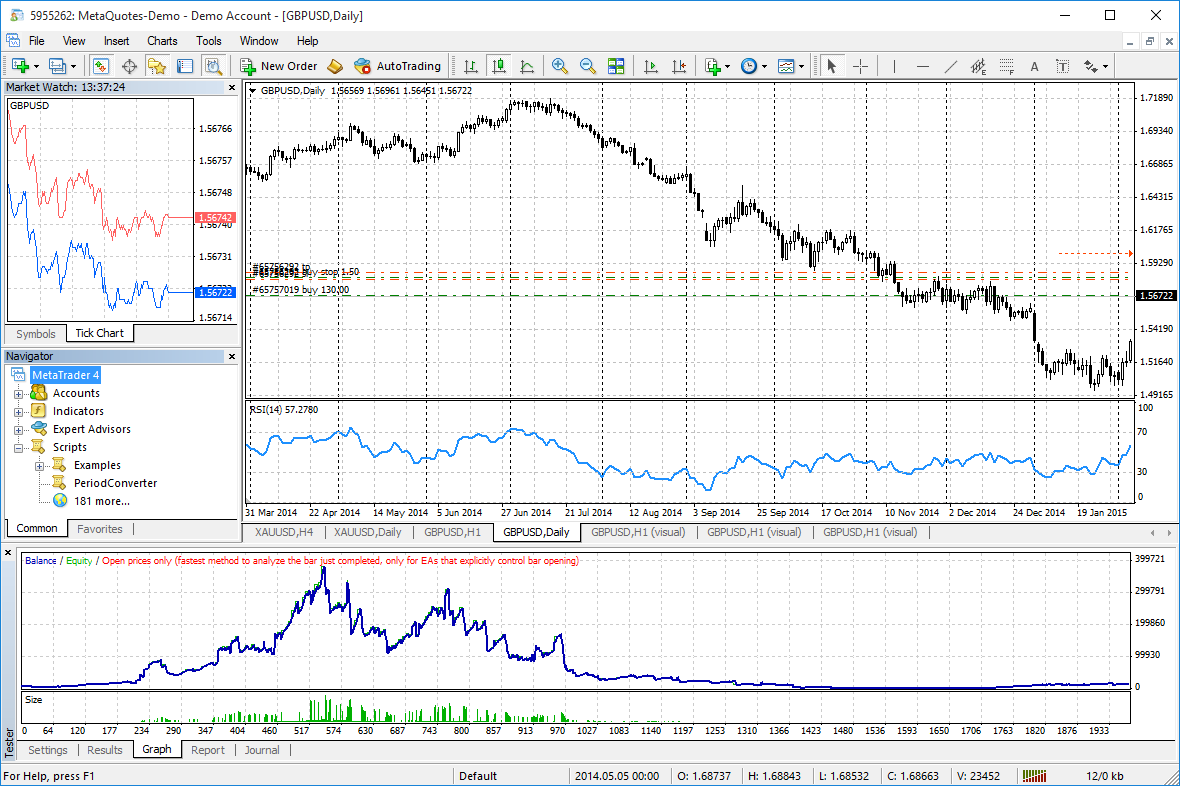 A trading robot test report will show you how good it is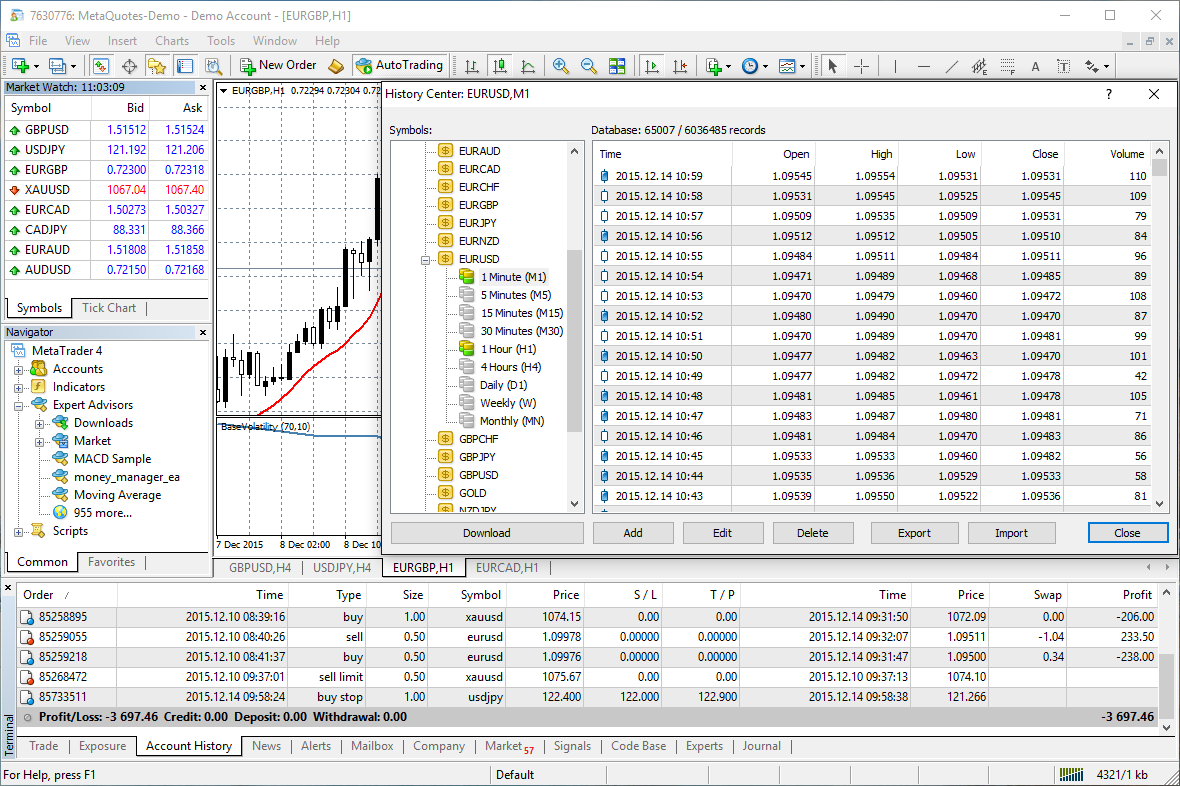 Browse through the quotes of any currency pair from one minute to one month in the History Center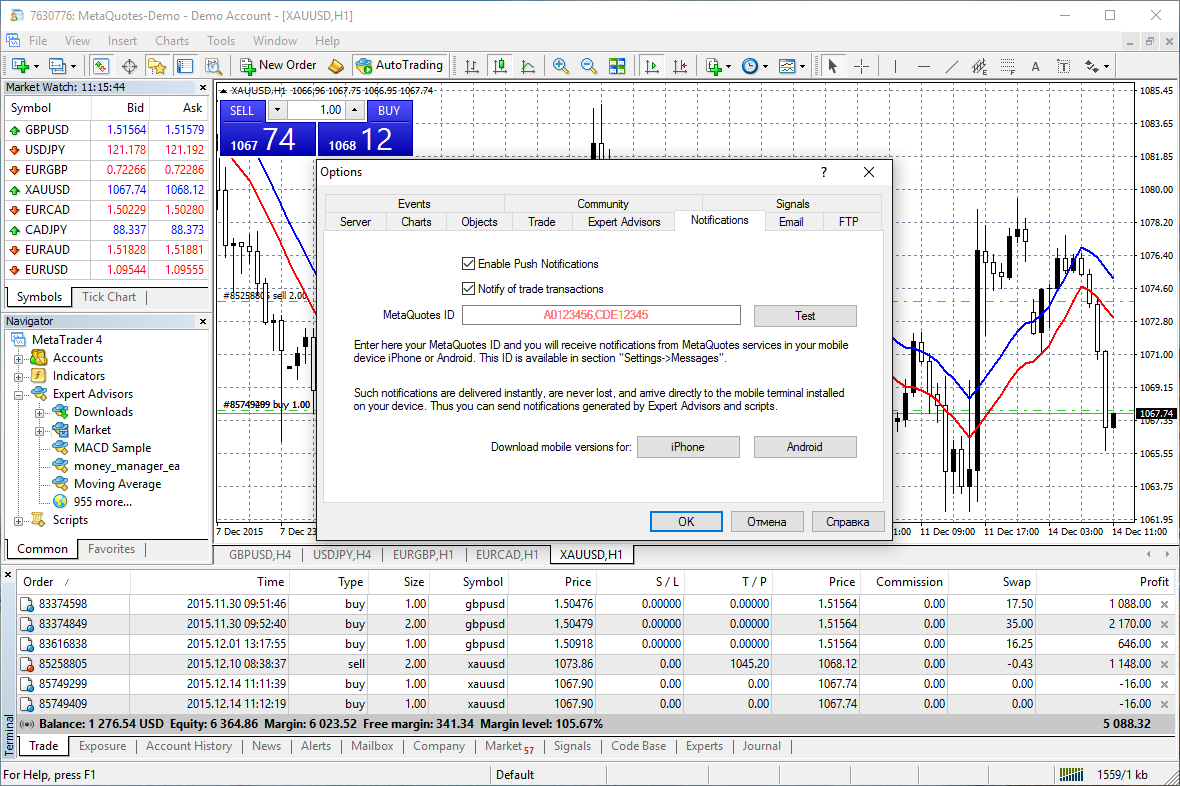 Your MetaTrader 4 desktop platform is integrated with the MetaTrader 4 mobile application for Android and iOS. Specify your MetaQuotes ID to receive push notifications from launched trading robots and scripts directly to your smartphone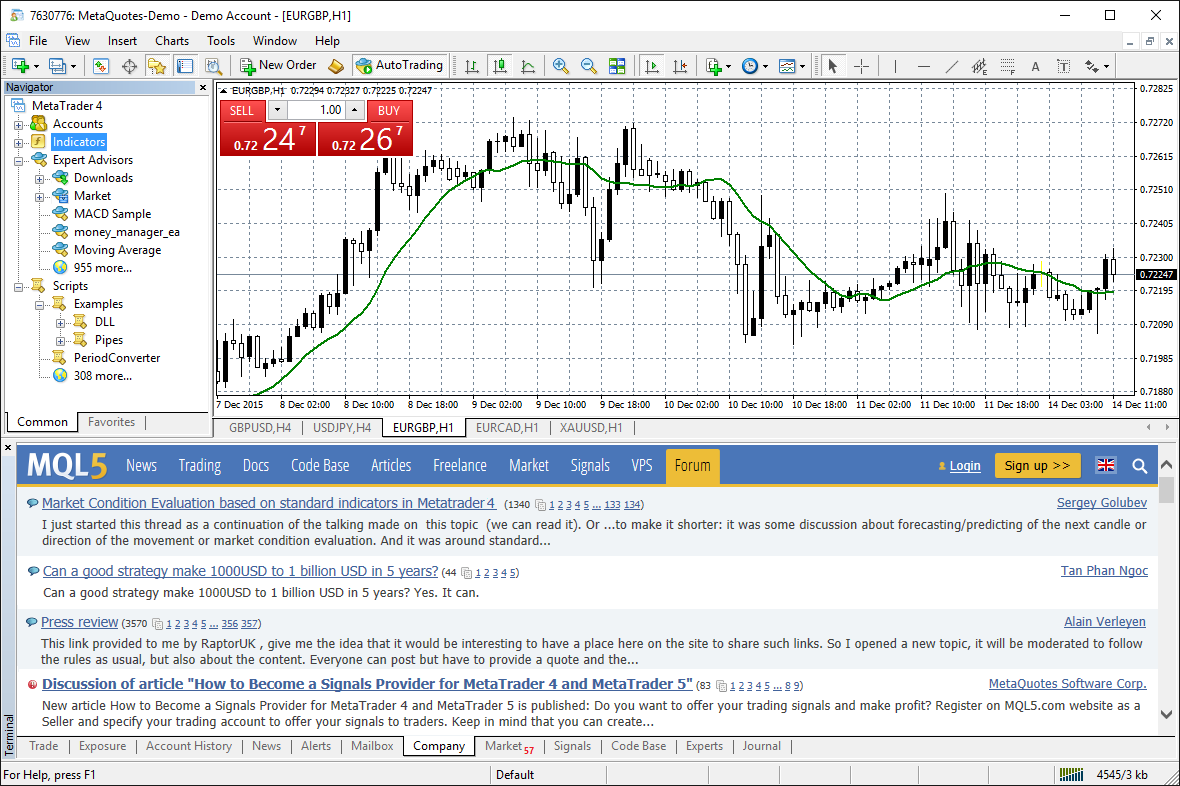 Join the largest community of traders directly via your platform!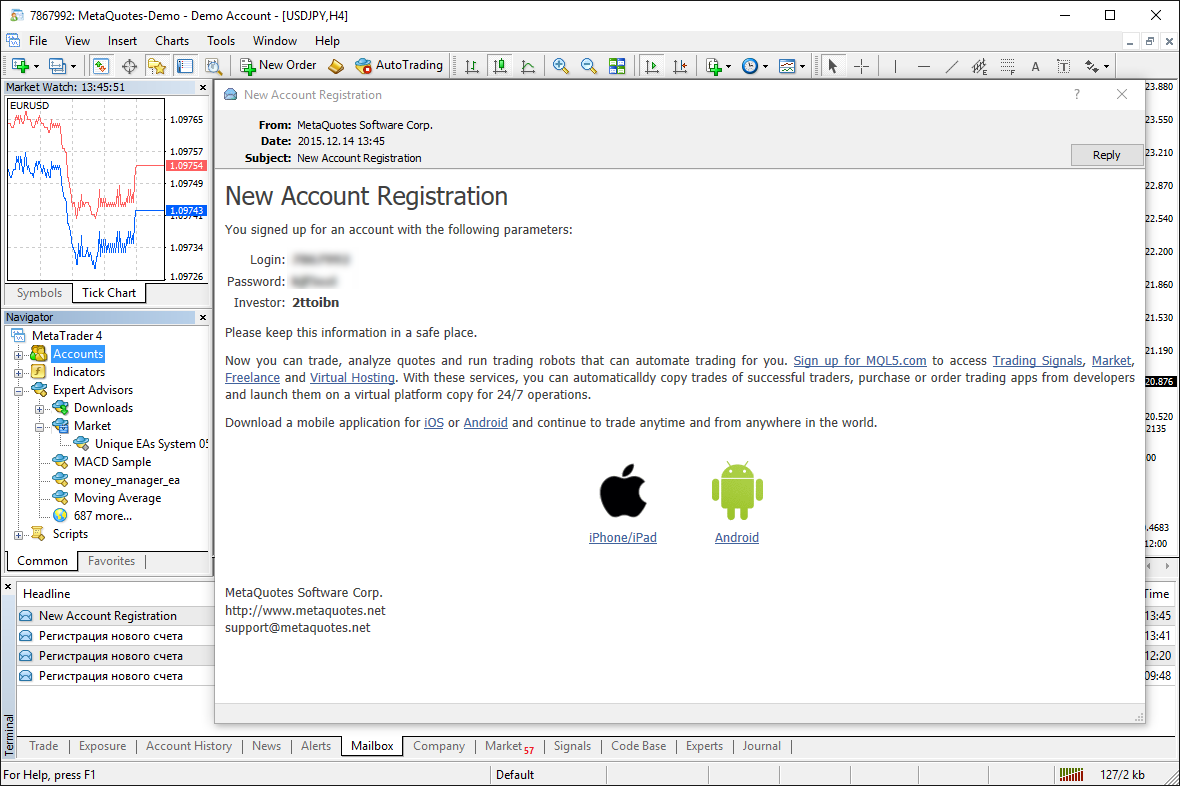 Receive useful information and hints from the MetaTrader 4 developers in Mailbox section
The MetaTrader 4 trading system
The powerful MetaTrader 4 trading system allows you to implement strategies of any complexity.
The Market and pending orders, Instant Execution and trading from a chart, stop orders and trailing stop, a tick chart and trading history — all these tools are at your disposal.
With MetaTrader 4, trading becomes flexible and convenient.
3 execution modes
2 market orders
4 pending orders
2 stop orders and a trailing stop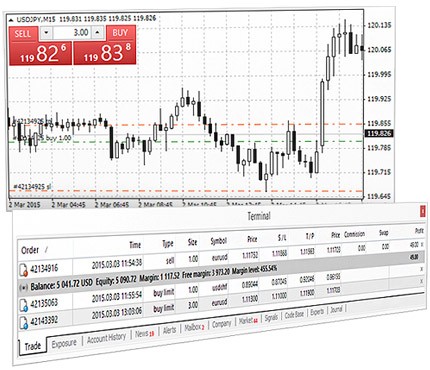 The MetaTrader 4 analytics
Analytical functions are one of the MetaTrader 4 platform's strongest points.
Online quotes and interactive charts with 9 periods allow you to examine quotes in all the details quickly responding to any price changes.
23 analytical objects and 30 built-in technical indicators greatly simplify this task. However, they are only the tip of the iceberg.
The free Code Base MetaTrader4트레이딩 플랫폼 and built-in Market provide thousands of additional indicators rising the amount of analytical options up to the sky. If there is a movement in the market, you have the analytical tools to detect it and react in a timely manner.
Interactive charts
9 timeframes
23 analytical objects
30 technical indicators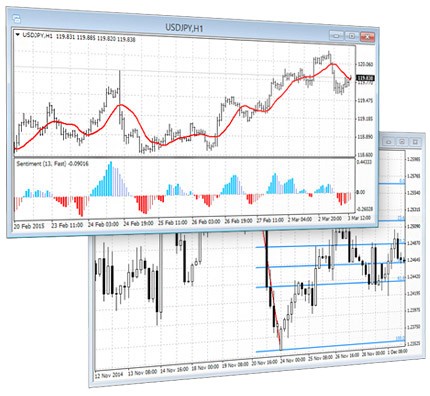 Trading signals and copy trading
No time for trading? That is not a problem, since MetaTrader 4 can automatically copy deals of other traders. Select your provider, subscribe to a signal and let your terminal copy the provider's trades.
Thousands of free and paid signals with various profitability and risk levels working on demo and real accounts are at your fingertips.
Make your choice, and MetaTrader 4 will trade for you.
Thousands of providers

Thousands of trading strategies

Any trading conditions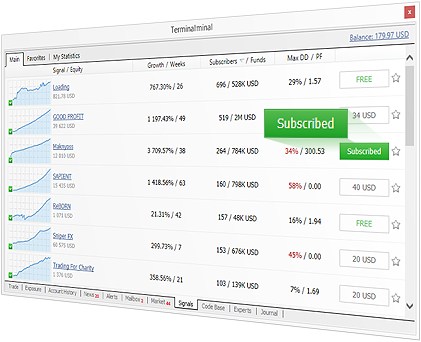 The MetaTrader Market
The built-in Market is the best place to find an Expert Advisor or a newest technical indicator.
Buy any of the hundreds of trading robots or indicators and launch them without leaving the platform. The purchase is simple, transparent and secure.
the widest selection of trading applications in the world
1 700+ trading robots and 2 100+ technical indicators

free and commercial products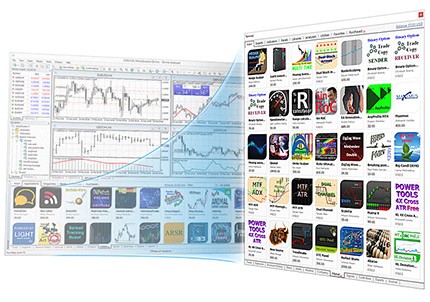 Algorithmic trading
Almost any trading strategy can be formalized and implemented as an Expert Advisor, so that it automatically does all the work for you. A trading robot can control both trading and analytics freeing you from the routine market analysis.
MetaTrader 4 provides the full-fledged environment for the development, testing and optimizing algorithmic/automated trading programs.
You can use your own application in trading, post it in the free code library or sell in the Market.
The MQL4 language of trading strategies
MetaEditor
Strategy tester
Library of free trading robots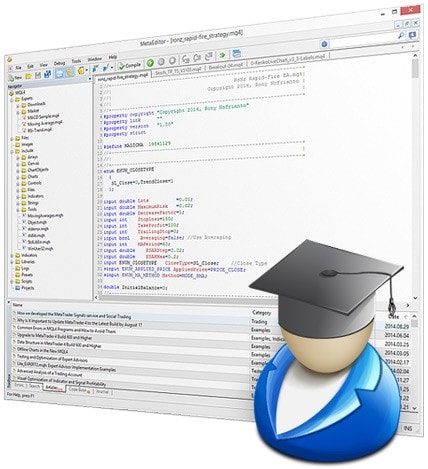 Mobile trading
Smartphones and tablets are indispensable in trading when you are away from your computer.
Use the mobile versions of MetaTrader 4 on your iPhone/iPad and Android devices to trade in the financial markets.
You will certainly appreciate the functionality of the mobile trading platforms that include the full support for the trading functions, broad analytical capabilities with technical indicators and other graphical objects. Of course, all these features are available from anywhere in the world 24 hours a day.
Support for iOS and Android OS
Full set of trading orders
Analytics and technical indicators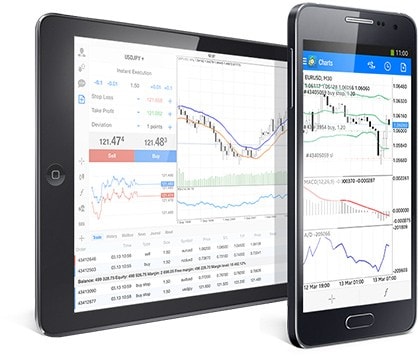 Alerts and financial news

The latest financial news allows you to prepare for unexpected price movements and make the right trading decisions.
Alerts inform you about certain events, so that you can take appropriate measures.
metatrader4
hello traders. I was checking the EURJPY setup and it looks very clear for longs I believe that when it breaks thew downtrend price will fly toward new higher levels.
Analysis XAUUSD resistance and support lines. predicted move up
Hello trader I hope you start a good trading day . #EURJPY ⚜️Type: Sell 🎚EP: 143.31 ✅TP1: 142.73 ✅TP2: 141.78 ✅TP3: 141.059 ✅TP4: 140.29 ✅TP5: 139.22 ⛔SL:144 If you like this post or have any comments, leave a comment for me here and share it with your friends.
Looking at my in-depth analysis of BTCUSD market. Made a few areas of interest and hope to start some dialogue regarding these price levels. What price levels are you looking MetaTrader4트레이딩 플랫폼 at moving forward? Let me know in the comments section. Happy trading, and good luck!
Wow, we are in some critical times in BTC's history! To keep it as simple as possible; we are looking for price to show the signs of the beginning form of a "higher low" when we look at our monthly (+) timeframe. It is also important to see the pressure that is currently placed on the buying side of the channel of the downtrend we see when looking at the weekly.
CHFJPY-- A top-down analysis using fibonacci and support/resistance zones to identify a possible higher-low on a high timeframe uptrend. Critique my analysis! Like the idea and follow me for more day-trading perspectives. Happy trading, and good luck!
Let me know your thoughts about this simple analysis of BTCUSD, where i use fibonacci retracement and a support/resistance area on the 1M timeframe. I am hoping for some critical feedback and am excited to see what you think about somebody using this a base line to go forward on smaller timeframes. Whats missing? What else do you think needs to be charted here.
Here is a look at my latest analysis of the DXY for the last full trading week in February '22. This is not how I typically draw out ideas on my charts, so please let me know your thoughts in the comment section about this particular drawing. Don't forget to hit the like button if you agree, or if MetaTrader4트레이딩 플랫폼 you found this chart helpful. Happy trading, and good luck!
Using fibonacci and basic probabilities to make a small risk while monitoring price movement on EURUSD intraday timeframes. Let me know your thoughts about this idea in the comments below. Be MetaTrader4트레이딩 플랫폼 sure to like the post and share with somebody you know who likes to trade EURUSD and other forex pairs. I have some other trade ideas and chart analysis' published, so feel.
While making GBPUSD outlook for the week i noticed an awesome 5:1 r/r position that fits right into my trading plan. Had to take it, had to share with you all. I am not the biggest fan on placing entries on small TF's, but thats why proper risk management MetaTrader4트레이딩 플랫폼 is they key to testing out ideas.
It looks like the market has created a curve i think it will go down from. You can see all the empty space below.
Today the price fell strongly on the XAUUSD. Forming now a fibonacci on the daily, it is possible that the price will explode upwards to around 1900+. If you are a US resident you may know inflation has made everything go up in prices, however, XAUUSD or gold has stay the same. In my point of view gold has been holding back for a while now an soon it will go.
So my idea from yesterday accomplish somehow. Today there was some news that pumped the price 160+ pip in less than 10 minutes. Right now a fibonacci formed after the news telling me to go long. Lets see how it goes!!
Welcome back Traders, Investors, and Community! If you LIKE this analysis, Please support our page by hitting the LIKE 👍 button Feel free to request any pair/instrument analysis or ask any questions in the comment section below. Strategy : RETEST BULLISH FLAG AND PRICE WILL CONTINUE TO GROW Good trading at everyone!
Greetings folks, Price has pierced through the standard setting bollinger band and my mean-reversion system has indicated a setup. The trading system with a preset 2:1 profit to risk ratio for this asset has historically: xxx trades xx %/R returns Xx % winrate Do let me know if I should expand the assets and timeframe of ideas that I share. Cheers, PineConnector
Price closed by my support on 4 Hour scaled down to 15 minutes to see a double top on 15 minute resistance with price falling short of last high to get entry.MetaTrader4트레이딩 플랫폼
Decided to take the wave analyzer sell entry confirmation/signal after marking up the chart for support and resistance. Will be monitoring the 20 EMA throughout the day to trail my stop loss. If anyone has any questions about the entry and exit indicators feel free to direct message me.
Since 2018, SPX has been forming a rare Broadening Accumulation Schematic (If you study Wyckoff, these ideas are present). If we finally break this resistance line, Look for a retest and a race that will rocket pretty far. At least to the 4,000 level. With the holdings becoming more on AAPL and the volume of just that one stock having an uproar, it's possible.
MetaTrader4트레이딩 플랫폼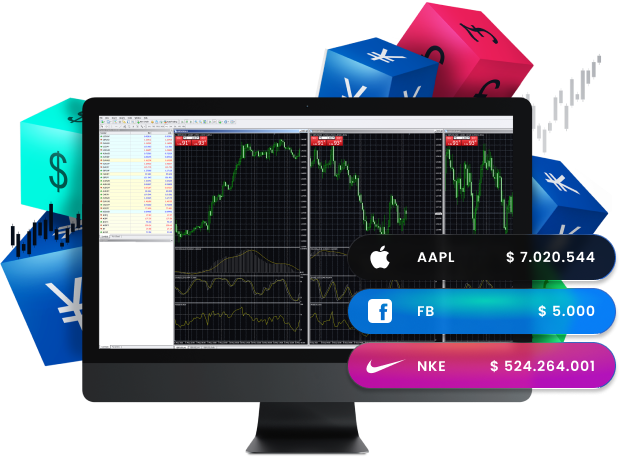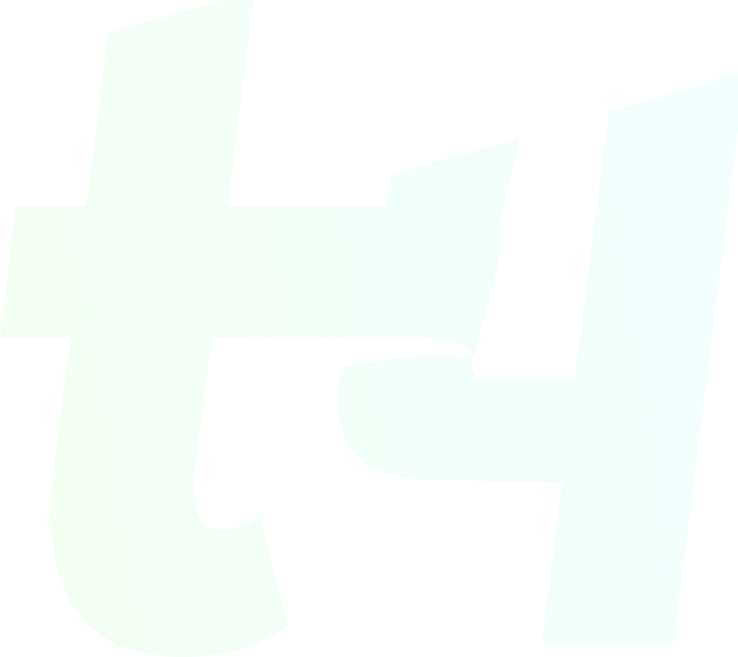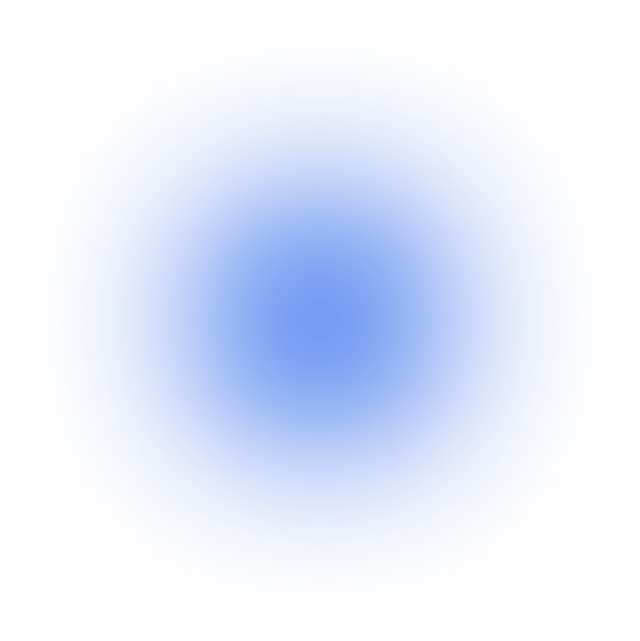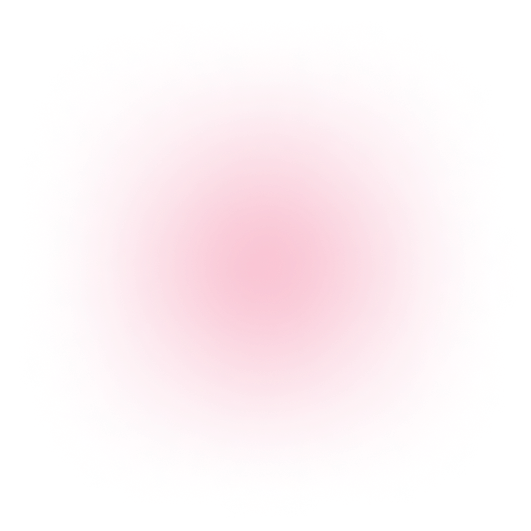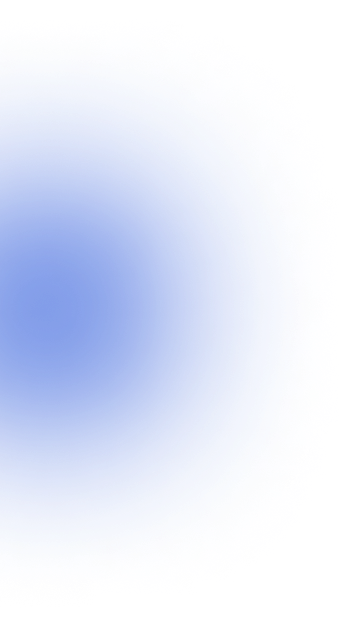 Trade with the most popular
MT4 Platform
The most popular trading platform in the industry, the MetaTrader 4 trading platform, also known as MT4, is the most reliable platform a trader can use. Easy to use, with advanced charting tools and online streaming news, MT4 provides a great way to access the markets successfully. It is available across multiple devices and is compatible with Windows, macOS, iPhone/iPad, Android and any internet browser.
All trading involves risk. It is possible to lose all your capital.
MetaTrader 4 for Windows
MetaTrader 4 provides a range of tools and features to help you carry out analysis and customise your trading experience. You can also use these tools to help you build trading algorithms which can automate your trading. Trade over 300 financial instruments in Forex CFDs, metals, futures, shares, indices and commodities from your desktop with MetaTrader 4.
MT4 is supported by
any Internet Browser

MT4 Windows Features
Manage orders, positions and equity online
All order types and execution modes
Monitor prices of financial instruments and forex rates
Advanced charting and indicators
Online streaming news
Explanatory Activity Reports
How to log in to MT4 Windows
Download and install the MT4 platform application.

Visit our FAQ page for more information on the MT4 platform for Windows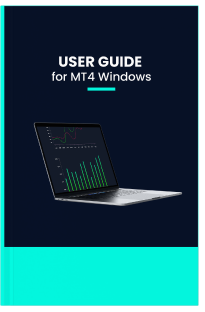 User guide for MT4 Windows
If you have any issues with downloading the platform, please check our MT4 user guide for Windows.
MetaTrader 4 is without a doubt the world's most popular trading platform due to the easy usability and feature-rich environment of the platform.
T4Trade's MetaTrader 4 platform is designed to take your trading to the next level as you can enjoy flexible leverage, choose between different account types and benefit from excellent trading conditions and mobile trading.
All trading involves risk. It is possible to lose all your capital.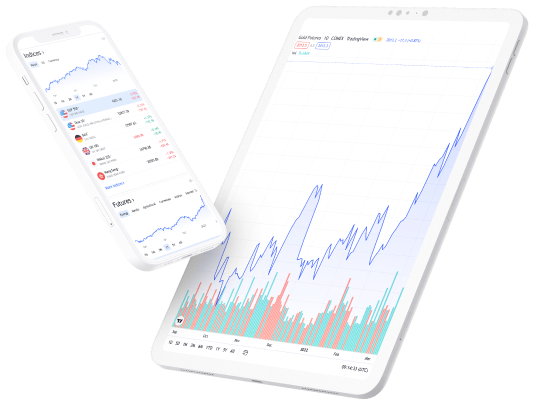 MetaTrader 4 Advanced for Windows
T4Trade's MetaTrader 4 Advanced platform is equipped with front-end terminals and back-office reporting functions and provides access to the industry's latest trading features such as permitted automated strategies and built-in ability to use EAs (Expert Advisors).
The platform combines perfectly with any of our trading accounts to provide the essential tools you need to analyse the market and enhance your trading strategy.

MT4 Advanced Features
Manage orders, positions and equity online
Monitor prices of financial instruments and forex rates
Advanced charting and indicators
Online streaming news
MetaTrader4트레이딩 플랫폼
Explanatory Activity Reports
Permitted automated strategies
Built-in ability to use EAs (Expert Advisors)
How to log in to MT4 Advance for Windows

Visit our FAQ page for more information on the MT4 platform for Windows .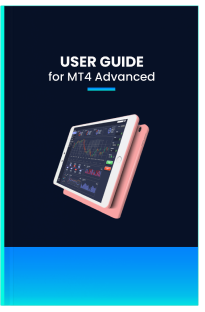 User guide for MT4 Advanced
Read the user guide on how to download, install and use the MT4 platform for Windows.
Start today. Discover CFD trading on 300+ instruments with superb conditions.
MT4 MultiTerminal for Windows
T4Trade's Multiterminal is the ideal tool for managing multiple accounts from one single terminal.
MT4 MultiTerminal Features
Multiple order types
Multiple account management and execution
Live monitoring for prices of financial instruments
Advanced Charting
Activity Reports
How to log in to MT4 MultiTerminal
Download the terminal
Run the .exe file after it has downloaded
When you launch the program for the first time, you need to fill in your login details
Enter your real or demo account login credentials (username and password received in your T4Trade welcome mail).

Visit our FAQ page for more information on the MT4 platform for MetaTrader4트레이딩 플랫폼 Windows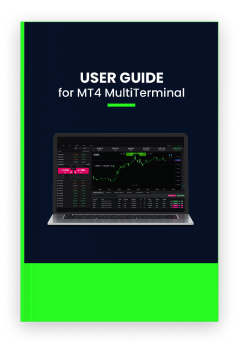 User guide for MT4 MultiTerminal
Read the user guide on how to download, install and use the MT4 platform for Windows,
Start today. Discover CFD trading on 300+ instruments with superb conditions.
T4Trade, with registered address of F20, 1st Floor, Eden Plaza, Eden Island, Seychelles, is a trade name of Tradeco Limited. Tradeco limited is authorised and regulated by the Seychelles Financial Services Authority with licence number SD029.
Risk Warning: Our products are traded on margin and carry a high level of risk MetaTrader4트레이딩 플랫폼 MetaTrader4트레이딩 플랫폼 and it is possible to lose all your capital. These products may not be suitable for everyone and you should ensure that you understand the risks involved.
T4Trade does not offer its services to residents of certain jurisdictions such as USA, Iran, Cuba, Sudan, Syria and North Korea.
MetaTrader4트레이딩 플랫폼
IV Markets is now STARTRADER
In a market that's constantly evolving, we at IV Markets have always tried to stay a step ahead. In this effort, we have now taken the leap to become more customer-centric, cutting-edge, and fully regulated.
It gives us immense delight to inform you that IV Markets is now STARTRADER– the world's fastest-growing broker.
Start trading with the world's fastest-growing broker
IV Markets Support Team
MT4 트레이딩 플랫폼
IV Markets MetaTrader 4(MT4) 플랫폼은 여러 차트 조합과 개인 맞춤형 기술 지표를 통해 강력한 기술 분석 툴을 제공합니다. MT4는 쉬운 운용, 안정적인 거래 및 낮은 대기시간을 통해 거래할 수 있도록 해줍니다.
IV Markets MT4
IV Markets는 메타쿼츠(MetaQuotes)와 협력하여 모든 MT4 기능을 제공합니다. IV Markets MT4 플랫폼을 통해 사용자들은 주문을 진행하고 포지션을 마감하며 손절매를 설정하여 차익을 실현할 수 있습니다. 실시간 뉴스를 보거나 경고 알림을 보내며, 보고서를 보고 데이터를 분석 및 처리할 수 있습니다.
MetaTrader4는 주요 트레이딩 및 기술 분석을 제공합니다. 당사 플랫폼을 통해, 트레이더는 타겟 상품의 모든 입찰 가격에 쉽게 접근 가능하며, 가장 적절한 트레이딩 상품을 선택할 수 있습니다.
IV Markets MT4의 이점
2개의 실행 모드
2개의 시장가 주문
4개의 지정가 주문
손절매와 수익 주문
추적 손절매
소프트웨어는 5Mb 이하의 파일 사이즈를 요구합니다.
다른 프로그램에 의존하지 않고 독립적으로 실행할 수 있습니다.
네트워크 대역폭 요구량은 매우 낮습니다.
상호작용 도표
9가지 스케줄
23가지 유형의 분석 오브젝트
30가지 유형의 기술 지표
EA 트레이딩 지원
MQL4 트레이딩 전략 언어
MetaEditor
전략 테스트
무료 자동 트레이딩 라이브러리
전 세계적인 주요 온라인 트레이딩 플랫폼의 하나인, IV Markets는 고객에게 MT4 모바일 버전을 제공합니다. 별도의 소프트웨어 혹은 인증서를 설치할 필요가 없으며 이 소프트웨어는 모든 브라우저 및 OS(윈도우, MetaTrader4트레이딩 플랫폼 MAC OSX 이상 버전, 아이패드 및 아이폰 ios6 이상 버전, 안드로이드 4.4 이상 버전)에서의 트레이딩에 사용될 수 있습니다.
안전하고 보다 편리하게 거래할 수 있는 세 단계
IV Markets는 고객에게 편리하고 빠른 계정 개설 및 거래를 지원합니다. 단 3단계로 편리하게 계정을 개설할 수 있습니다:
고객이 온라인으로 신청서를 제출하고 검증 절차를 통과하면 해당 계정은 즉시 개설됩니다.
계정을 성공적으로 개설한 후 IV Markets의 전문 MT4 트레이딩 소프트웨어를 다운로드하여 원클릭으로 빠르게 설치할 수 있습니다.
시작할 준비가 되셨나요? 오늘 계정을 개설해보세요!
라이브 계정을 만들 준비가 되지 않았다고 생각하신다면 데모 트레이딩을 통해 시작해보세요. 이것은 신규 트레이더가 외환 및 CFDs의 세계로 진입할 수 있는 최상의 방법입니다.
리스크 성명서
모든 투자는 위험을 안고 있으며, 이익과 손실 모두를 초래할 수 있음을 알려드립니다. 특히, 외환 및 CFDs와 같은 레버리지 파생상품 트레이딩은 자본에 대한 높은 위험 수준을 안고 있습니다. 이러한 모든 파생 상품의 대다수가 레버리지 형태를 나타내는데, 이것이 모든 투자자들에게 적절한 상품은 아닐 수 있습니다. 레버리지는 이익과 손실 모두가 확대되는 효과를 나타냅니다. 레버리지 파생상품의 가격은 빠르게 마이너스로 떨어질 수 있으며 투자한 자본보다 더 많은 손실을 입음으로써 추가 지급이 필요할 수도 있습니다. 투자 시 이러한 사실을 이해하는 것이 중요합니다. 여러분의 자본은 위험에 처할 수 있습니다. 과거의 실적이 미래 실적을 가늠하는 지침이 되는 것은 아닙니다. 여러분이 저희를 통해 투자할 것인지 판단할 때는 충분한 정보를 확보한 상태에서 결정을 내려야 합니다. 투자하고자 하는 금융 상품의 종류에 관계없이 여러분은 투자 목적, 트레이딩 지식 및 경험과 자금적 여유에 대해 주의 깊게 고려해야 합니다. 관련된 리스크를 이해하지 못할 경우 독립적인 전문 금융 컨설턴트의 자문을 구해야 합니다. 외환 및 CFDs 트레이딩 등과 관련된 위험에 대한 충분한 지식과 경험이 있을 때에만 해당 거래를 해야 하며, 모두 손실을 봐도 관계가 없을 정도의 선에서 거래해야 합니다. 당사는 추천에 따른 트레이딩을 통해 겪은 손실에 대해서 그 어떠한 책임도 지지 않습니다. 본 웹사이트에 포함된 정보 및 자료는 미국 시민 또는 거주자이거나 미국 또는 기타 관할지역에 위치한 모든 개인 또는 기업에게 배포하기 위한 목적으로 제작되지 않았습니다. IV Markets는 귀하의 거래로 인해 발생하는 손실에 대해 개입하지도, 책임을 지지도 않는다는 사실에 주의하세요.
IV International LLC (이하 "IV Market")는 세인트빈센트 그레나딘 (Saint Vincent and the Grenadines)에 적법하게 설립된 회사로, 글로벌 투자자들을 위한 마진 FX 및 CFDs 트레이딩 서비스를 제공하기 위한 목적에서 금융서비스규제청(Financial Services Authority)에2019년 No. 228 LLC로 등록되었습니다. 당사의 주소는 Hinds Building, Kingstown, Saint Vincent and the Grenadines입니다.
IV INTERNATIONAL PTY LTD는 호주 증권투자위원회(ASIC)의 AFS 대표 번호 1286515로 등록되어 있으며, 호주에서 주식 및 선물 트레이딩, 펀드 매니지먼트 및 기관 투자자들을 위한 투자 정보를 제공하는 것과 같은 서비스를 제공할 수 있는 인가를 받았습니다.
IV Markets는 미국, 캐나다, 홍콩과 같은 특정 국가 혹은 지역의 거주자들을 위한 상품과 서비스를 제공하지 않습니다.
[email protected]